Blog Home
Drop Me a Line -- Writing Tips for December Holidays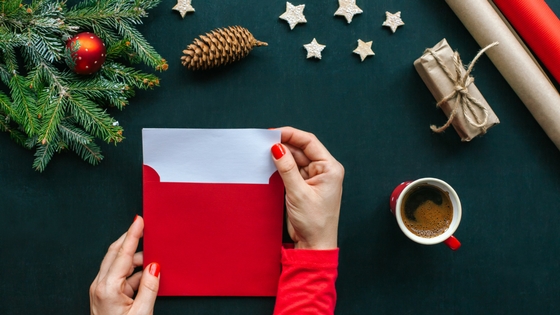 This time of year it's always exciting when mail arrives at The Gates of Owings Mills just for you. Starting shortly after Thanksgiving, holiday greeting cards begin to make their appearance with warm greetings and news from family and friends. If you're receiving them, we've got some ideas about how to display them in your apartment. If you haven't already sent yours, it's time to drop them in the mail. Whether you spend hours looking for the perfect card for each person on your list or you grab a box of greeting cards from the dollar store, there are some things that apply to sending them, and we've included them in today's post.
Displaying Greeting Cards
We have a few ideas about how to display the beautiful greeting cards you may have received in the mail this month. Read on for awesome ideas!
Make a holiday card garland.
String garland or even a string of miniature lights across a wall or mantle and use clips or clothespins to attach Christmas cards.
Use magnets to position cards on the refrigerator or any other metal surface in a pleasing pattern.
Put the cards in clear plastic covers in a decorated binder and leave it in a convenient place for people to browse.
Put the cards among the branches of your tree. They can add a festive touch with their holiday colors.
Put cards in a pretty wicker basket decorated with a holiday ribbon.
For more ideas, check out these 15 ways to display your Christmas cards.
Preparing and Sending Greeting Cards
Be prepared. Before you sit down to add handwritten notes in each of your cards, gather up everything you're going to need so you don't have to stop because you don't have the envelopes or stamps. Grab an extra pen, and you may want some fun stickers, and photos if you are planning on including them with your card.
Check to make sure you have the correct address; it's better to find out now and reduce the number of returned cards you may get. Be sure to include a return address so undeliverable cards can be returned to you; it may be worth it to invest in a stamp or to print return address labels.
Add a brief, personalized greeting under the printed message. If you have more to say than will fit in the space, you may want to consider including a full-page newsletter with your card. If you've never written one before, this holiday newsletter guide offers some great advice.
We hope you enjoy receiving cards and packages at your Owings Mills, MD apartment this season, and that yours arrive safely at their intended destinations. We want to wish everyone in our apartment community happy holidays and say thanks for reading today's blog post!