Blog Home
Halloween Costumes Made Easy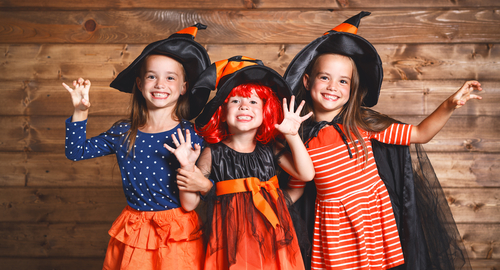 Welcome back to The Gates of Owings Mills Blog! This month we are excited to share some Halloween costume ideas with members of our apartment community here in Owings Mills, MD. Whether you like to order premade costumes or do it yourself, we've gathered some resources.
The Costume Super Center has costumes available for adults and kids as well as props and decorations too. If you're looking for ideas for a group we suggest browsing through the themed pages at Halloween Express. If you're more about doing it yourself, the following ideas can get the creative juices flowing.
If you're handy with a makeup brush, you can make a truly outstanding costume without too much fuss. Check out how this person channeled Scar, try this pop art makeup tutorial, follow the directions for this mermaid makeup tutorial, or get inspired by this pixelated image art for a look everyone will be fawning over.
This costume is a show-stopper! It looks eerily real and complicated, but if you break it down into steps, you can pull this off in no time. The person posting this idea said in the comments that she used a translucent umbrella, pillow stuffing, and a battery pack to create the look of a portable thunderstorm. Sew beads on fishing wire to the umbrella to make the raining effect. Wear dark clothing to help the rain show up easier!
Create some buzz in your office or classroom by putting together this cute ensemble. Make your own crown or buy one from a nearby craft or party store. If you don't want to be a queen bee, you can ditch the crown and be a busy bee or a worker bee.
Then you just have to make sure you have a yellow or black shirt you can work some magic on to create the iconic black and yellow stripes. Just head to a sewing supply shop to buy your fabric and do some easy sewing for the desired effect. You can also use tape, as WikiHow suggests. Then buy some bee or fairy wings so your costume can take flight.
Check out 31 more DIY Halloween costume ideas from Good Housekeeping by clicking on the link if one of these don't work out for you.
We want to wish everyone at our apartment community a Happy Halloween! Thanks for reading today's blog post.