Blog Home
Spring Lunch Recipes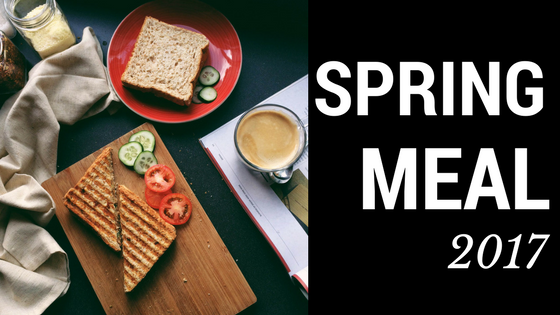 Lunch can be a difficult meal to plan for. This month The Gates of Owings Mills Blog is featuring several of our favorite lunch recipes. Save money on lunch by bringing a homemade meal to work every once in awhile. We are giving you the recipes to our favorite soups, salads, sandwiches, and sides for your lunch this month.
Triple Berry Spinach Salad with Candied Pecans from Chelsea's Messy Apron
Dress your triple berry spinach salad with lemon juice, lemon zest, onion powder, dijon mustard, salt, white sugar, vegetable oil, and poppy seeds. Head to your local farmer's market here in Medford, MA for your fresh fruits and vegetables.
The BEST Tomato Basil Soup Recipe from One Little Project
Combine tomatoes, basil, parsley, carrots, onions, chicken stock, garlic, butter, and lemon juice for a tomato soup that will make your mouth water. Dip a piece of french bread or a fresh roll in this soup, and top it with cheese, cracker, and chives to finish it off. Tote this soup to work in a thermos sometime this month.
The Green Thumb Sandwich from Broma Bakery
Our favorite part of this sandwich is the yogurt dressing. Make it by mixing together greek yogurt, lemon juice, rice vinegar, chopped basil, garlic powder, and fresh ground pepper. Use your favorite vegetables from the local farmer's market to finish off the recipe. Broma Bakery recommends using goat cheese, cucumber, green pepper, alfalfa sprouts, and a medium avocado.
Baked Sweet Potato Chips from A Spicy Perspective
This easy recipe (all you really need is a couple of sweet potatoes, salt, and an oven) makes the perfect baked sweet potato chips. Bring these chips to work as a healthy side to your lunch. Bring along a tupperware of hummus to dip your chips in.
Grape, Avocado, and Arugula Salad from Gimme Some Oven
The best part of this grape, avocado, and arugula salad is the white balsamic vinaigrette. Make it by mixing extra virgin olive oil, white balsamic vinegar, honey, sea salt, and freshly-cracked black pepper. Toss together arugula, grapes, avocado, goat cheese, walnuts, and red onion to make the salad.
What are your favorite lunch recipes? Where's the best place to get lunch in Owings Mills, MD? Let us know in the comments. Thanks for reading our post!